IOM – All shops now open

All shops remain open as usual.
Jersey – All shops now open
All shops remain open as usual.
Harlow – All shops now open
All Harlow shops are closed until 2nd December.
Special measures have been put in place in all our shops for your safety and to assist with social distancing with the help of Direct Eco Solutions

CUSTOMER UNPAID WINNINGS
ANY CUSTOMER WITH WINNINGS TO COLLECT MAY CLAIM THEM BY EMAILING INFO@JOEJENNINGS.CO.UK WITH THE FOLLOWING INFORMATION;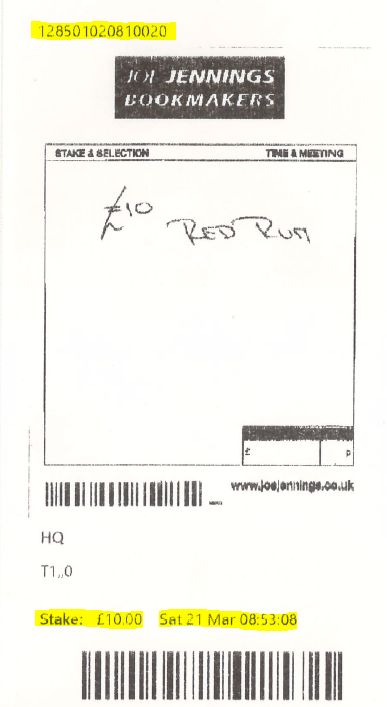 BET DETAILS REQUIRED ARE
HIGHLIGHTED IN THIS EXAMPLE >>>>
SLIP NUMBER – DATE
PLEASE ALSO STATE WHICH SHOP
THE BET WAS PLACED IN
WINNINGS OVER £5 WILL BE TRANSFERRED TO YOUR BANK ACCOUNT
WITHIN 3 WORKING DAYS
PLEASE SUPPLY YOUR FULL NAME, ACCOUNT NUMBER AND SORT CODE
WINNINGS UNDER £5 PLEASE RETAIN YOUR SLIP UNTIL THE SHOP REOPENS
ALL OUTSTANDING WINNINGS WILL BE FULLY HONOURED
Want to take advantage of Joe Jennings Bookmakers' innovative WhatsApp betting service or our traditional telephone betting facility? Looking to enjoy sports betting as a customer who's cared for and looked after? Register for an account with Joe Jennings Bookmaker today and find out why our customers keep coming back!